Artist which stay always on the borders.  Czech based artist Lucie Jestrabikova currently residence in Mannheim.  Like a visual artist with interest in many fields of art, she decided to study sculpture and new media. Lucie graduated from the Academy of Art, Architecture and Design in Prague and West Bohemia University in Pilsen, with director's prize award.   For development of her skills and knowledge, spent two semesters in Taiwan Art Universities in the Chinese painting and Multimedia design studio.
Since year 2013 are exhibitions part of her artists' activities, for example Crypth Gallery (GB), Czuly Barbarzynca (PL), Filippo ioco Gallery (ES), Zeitgenießische Gallery (DE), Stolen Gallery (CZ).
Because collaboration bring always a new perspective, Lucie founded with Zuzana Stefkova and Hana Magdonova an art group Gravidity. With combination of site-specific installation, performance, workshop, photography and objects, they dealing with position of body in the environment.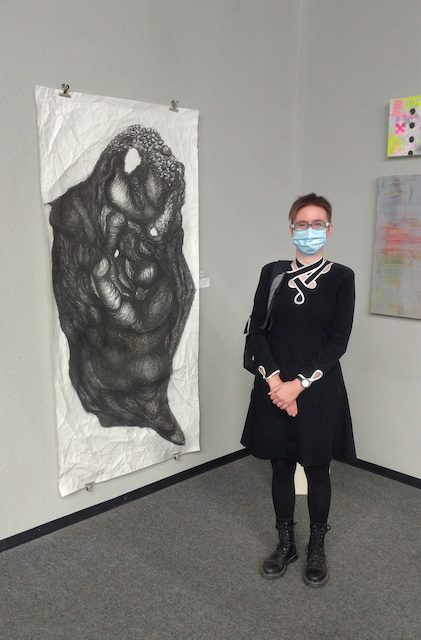 With the help of pencil, paint, paper and tape I tell a story of transformation. Because I take the techniques from one side and the materials from another, I have the position of a border crosser who creates new perspectives.
My art works are mostly quite abstract. Materials have own history and background, that's reason why is a new transformation more important for me, than creating a story or message with it. I am using a material like a story teller. Each material has own history and association and I don't want to remove it from them. It is quite impossible for me say, that's my pieces are paintings, objects, installations, texts or sound, because all the time stay my art pieces somewhere in the middle. 
Staying in the middle mean impossibilities to make a decision but also a line for a collaboration to connect and rise up everything to the new level. My contemporary position was inspired by a traditional art technology especially painting and sculpture and also a new materialism.
Artist residence program
January 2017, Egon Schiele Kunst Centrum, Český Krumlov, (CZ)
Solo-exhibitions
8.9-24.10.2018- Kunstbacken, Dankbar Mannheim, Mannheim (DE)
6.5-10.5.2018- In line, Zeitgenießische Galerie, Heidelberg (DE)
1.9-1.10.2017- Space between, Theater in Řeznická, Prague (CZ)
28.1.2017- Sediments, Stollen Gallery, Český Krumlov (CZ)
3.10-29.10.2016- Reading from the black cube's skin, Artoteka- City Library, Prague (CZ)
17.11-20.11. 2015- Sprout, Galerie NIKA, Prague (CZ)
Selected group exhibitions
25.-27.9.2020- Coronale, Mannheimer Kunstverein, Mannheim (DE)
25.-26.10.2019- 15. Nachtwandel, Atelier23, Mannheim (DE)
1.3.-3.3.2019- Please change your clothes II.! Das Gift Raum, Berlin (DE)
18.1.2019- Please change your clothes I.! Helmut, Leipzig (DE)
6.12-27.12.2018- Subterrein, Suteren Gallery, Brno (CZ)
24.5-26.5.2018- Nude, Textil factory Slezan, Frýdek- Místek (CZ)
16-31.5.2018- Spring collective, Filippo ioco Gallery, Barcelona, (ES)
6.11.2017-12.1.2018- Exhibition for introverts, Catle Gallery, Zruč nad Sázavou (CZ)

27-20.7. 2016- Sinking song- Floating Castle scenography festival, Grad Sneznik, (SI)
5.5.-30.5.2014- Hologramme, Září Gallery, Prague (CZ)
13.6.-13.7.2013- New Wave Photography 2013, Czuly Barbarzynca, Cracow (PL)

19.4.- 27.4.2013 – New Wave Photography 2013, Crypt Gallery, London (GB)
eyJpZCI6IjEyIiwibGFiZWwiOiJDb250YWN0MiIsImFjdGl2ZSI6IjEiLCJvcmlnaW5hbF9pZCI6IjEiLCJ1bmlxdWVfaWQiOiJ3ZWZqMiIsInBhcmFtcyI6eyJlbmFibGVGb3JNZW1iZXJzaGlwIjoiMCIsInRwbCI6eyJ3aWR0aCI6IjEwMCIsIndpZHRoX21lYXN1cmUiOiIlIiwiYmdfdHlwZV8wIjoiY29sb3IiLCJiZ19pbWdfMCI6IiIsImJnX2NvbG9yXzAiOiIjMjJjMGQ4IiwiYmdfdHlwZV8xIjoiY29sb3IiLCJiZ19pbWdfMSI6IiIsImJnX2NvbG9yXzEiOiIjMzMzMzMzIiwiYmdfdHlwZV8yIjoiY29sb3IiLCJiZ19pbWdfMiI6IiIsImJnX2NvbG9yXzIiOiIjMzMzMzMzIiwiYmdfdHlwZV8zIjoiY29sb3IiLCJiZ19pbWdfMyI6IiIsImJnX2NvbG9yXzMiOiIjMzMzMzMzIiwiZmllbGRfZXJyb3JfaW52YWxpZCI6IiIsImZvcm1fc2VudF9tc2ciOiJUaGFuayB5b3UgZm9yIGNvbnRhY3RpbmcgdXMhIiwiZm9ybV9zZW50X21zZ19jb2xvciI6IiM0YWU4ZWEiLCJoaWRlX29uX3N1Ym1pdCI6IjEiLCJyZWRpcmVjdF9vbl9zdWJtaXQiOiJodHRwczpcL1wvamVzdHJhYmlrb3ZhLmN6IiwidGVzdF9lbWFpbCI6Imx1Y2llQGplc3RyYWJpa292YS5jeiIsInNhdmVfY29udGFjdHMiOiIxIiwiZXhwX2RlbGltIjoiOyIsImZiX2NvbnZlcnRfYmFzZSI6IiIsImZpZWxkX3dyYXBwZXIiOiI8ZGl2IFtmaWVsZF9zaGVsbF9jbGFzc2VzXSBbZmllbGRfc2hlbGxfc3R5bGVzXT5bZmllbGRdPFwvZGl2PiJ9LCJmaWVsZHMiOlt7ImJzX2NsYXNzX2lkIjoiNiIsIm5hbWUiOiJmaXJzdF9uYW1lIiwibGFiZWwiOiIiLCJwbGFjZWhvbGRlciI6IkZpcnN0IE5hbWUiLCJ2YWx1ZSI6IiIsInZhbHVlX3ByZXNldCI6IiIsImh0bWwiOiJ0ZXh0IiwibWFuZGF0b3J5IjoiMSIsIm1pbl9zaXplIjoiIiwibWF4X3NpemUiOiIiLCJhZGRfY2xhc3NlcyI6IiIsImFkZF9zdHlsZXMiOiIiLCJhZGRfYXR0ciI6IiIsInZuX29ubHlfbnVtYmVyIjoiMCIsInZuX29ubHlfbGV0dGVycyI6IjAiLCJ2bl9wYXR0ZXJuIjoiMCIsInZuX2VxdWFsIjoiIiwiaWNvbl9jbGFzcyI6IiIsImljb25fc2l6ZSI6IiIsImljb25fY29sb3IiOiIiLCJ0ZXJtcyI6IiJ9LHsiYnNfY2xhc3NfaWQiOiI2IiwibmFtZSI6Imxhc3RfbmFtZSIsImxhYmVsIjoiIiwicGxhY2Vob2xkZXIiOiJMYXN0IE5hbWUiLCJ2YWx1ZSI6IiIsImh0bWwiOiJ0ZXh0IiwibWFuZGF0b3J5IjoiMCIsIm1pbl9zaXplIjoiIiwibWF4X3NpemUiOiIiLCJhZGRfY2xhc3NlcyI6IiIsImFkZF9zdHlsZXMiOiIiLCJhZGRfYXR0ciI6IiIsInZuX29ubHlfbnVtYmVyIjoiMCIsInZuX29ubHlfbGV0dGVycyI6IjAiLCJ2bl9wYXR0ZXJuIjoiMCJ9LHsiYnNfY2xhc3NfaWQiOiIxMiIsIm5hbWUiOiJlbWFpbCIsImxhYmVsIjoiIiwicGxhY2Vob2xkZXIiOiJFbWFpbCIsInZhbHVlIjoiIiwiaHRtbCI6ImVtYWlsIiwibWFuZGF0b3J5IjoiMSIsIm1pbl9zaXplIjoiIiwibWF4X3NpemUiOiIiLCJhZGRfY2xhc3NlcyI6IiIsImFkZF9zdHlsZXMiOiIiLCJhZGRfYXR0ciI6IiIsInZuX29ubHlfbnVtYmVyIjoiMCIsInZuX29ubHlfbGV0dGVycyI6IjAiLCJ2bl9wYXR0ZXJuIjoiMCJ9LHsiYnNfY2xhc3NfaWQiOiIxMiIsIm5hbWUiOiJzdWJqZWN0IiwibGFiZWwiOiIiLCJwbGFjZWhvbGRlciI6IlN1YmplY3QiLCJ2YWx1ZSI6IiIsImh0bWwiOiJ0ZXh0IiwibWFuZGF0b3J5IjoiMSIsIm1pbl9zaXplIjoiIiwibWF4X3NpemUiOiIiLCJhZGRfY2xhc3NlcyI6IiIsImFkZF9zdHlsZXMiOiIiLCJhZGRfYXR0ciI6IiIsInZuX29ubHlfbnVtYmVyIjoiMCIsInZuX29ubHlfbGV0dGVycyI6IjAiLCJ2bl9wYXR0ZXJuIjoiMCJ9LHsiYnNfY2xhc3NfaWQiOiIxMiIsIm5hbWUiOiJtZXNzYWdlIiwibGFiZWwiOiIiLCJwbGFjZWhvbGRlciI6Ik1lc3NhZ2UiLCJ2YWx1ZSI6IiIsImh0bWwiOiJ0ZXh0YXJlYSIsIm1hbmRhdG9yeSI6IjEiLCJtaW5fc2l6ZSI6IiIsIm1heF9zaXplIjoiIiwiYWRkX2NsYXNzZXMiOiIiLCJhZGRfc3R5bGVzIjoiIiwiYWRkX2F0dHIiOiIiLCJ2bl9vbmx5X251bWJlciI6IjAiLCJ2bl9vbmx5X2xldHRlcnMiOiIwIiwidm5fcGF0dGVybiI6IjAifSx7ImJzX2NsYXNzX2lkIjoiNiIsIm5hbWUiOiJzZW5kIiwibGFiZWwiOiJTZW5kIiwiaHRtbCI6InN1Ym1pdCIsImFkZF9jbGFzc2VzIjoiIiwiYWRkX3N0eWxlcyI6IiIsImFkZF9hdHRyIjoiIn0seyJic19jbGFzc19pZCI6IjYiLCJuYW1lIjoicmVzZXQiLCJsYWJlbCI6IlJlc2V0IiwiaHRtbCI6InJlc2V0IiwiYWRkX2NsYXNzZXMiOiIiLCJhZGRfc3R5bGVzIjoiIiwiYWRkX2F0dHIiOiIifV0sIm9wdHNfYXR0cnMiOnsiYmdfbnVtYmVyIjoiNCJ9fSwiaW1nX3ByZXZpZXciOiJiYXNlLWNvbnRhY3QuanBnIiwidmlld3MiOiIxMDYiLCJ1bmlxdWVfdmlld3MiOiI4NCIsImFjdGlvbnMiOiI4Iiwic29ydF9vcmRlciI6IjEiLCJpc19wcm8iOiIwIiwiYWJfaWQiOiIwIiwiZGF0ZV9jcmVhdGVkIjoiMjAxNi0wNS0wMyAxNTowMTowMyIsImltZ19wcmV2aWV3X3VybCI6Imh0dHBzOlwvXC9qZXN0cmFiaWtvdmEuY3pcL3dwLWNvbnRlbnRcL3BsdWdpbnNcL2NvbnRhY3QtZm9ybS1ieS1zdXBzeXN0aWNcL2Fzc2V0c1wvZm9ybXNcL2ltZ1wvcHJldmlld1wvYmFzZS1jb250YWN0LmpwZyIsInZpZXdfaWQiOiIxMl8yNzQ0ODkiLCJ2aWV3X2h0bWxfaWQiOiJjc3BGb3JtU2hlbGxfMTJfMjc0NDg5IiwiY29ubmVjdF9oYXNoIjoiNDg5NWRhOTljODA1YTg4MTFiZjc1MWE2ODU4ZGNlMDcifQ==